As part of our sustainable procurement strategy, since 2015 Swire Properties has been implementing environmental procurement guidelines in accordance with the ISO 14001 Environmental Management System. This system tracks our consumption of office supplies, building services equipment and building materials that meet specific environmental criteria – such as whether the products have been certified or accredited by reputable, independent third parties. We use this data to evaluate our sustainable procurement performance and identify further opportunities to source more sustainable products.
Beginning in 2020, we expanded our procurement of green products and services to include sustainability-related products and services, including expenditures on promoting safety, health and wellbeing in our properties and new developments.
In addition, we also track our consumption of specific construction materials used in projects under development, such as timber, concrete and reinforcement bar. This allows us to benchmark our consumption of these materials and their environmental impact during the construction of new developments.
We have been a member of the Hong Kong Green Purchasing Charter of the Green Council since 2013 and a member of their Sustainable Procurement Charter since 2018.
We were the first real estate developer in Hong Kong to introduce low-carbon specifications for new developments, detailing such specifications for concrete, reinforcement bar and structural steel. These specifications have now been adopted into the main contract for a new development in Hong Kong.
Cityplaza and Citygate Outlets were recognised with Excellent Green Product Advocator Awards at the Hong Kong Green Shop Alliance Awards 2022. These awards were given to both malls for contributing to a greener retail environment through the adoption of green products.
Since 2021, we have worked with Tsinghua University to explore the availability and use of low-carbon building materials in the Chinese Mainland.
To facilitate the low-carbon transformation of our supply chain, we also regularly share our considerable experience with contractors and building material suppliers in the real estate and construction industries through publications, presentations at conferences and other channels. The aims are to collaborate with our supply chain partners to innovate low-carbon best practices, and to catalyse the greater general availability of low-carbon building materials.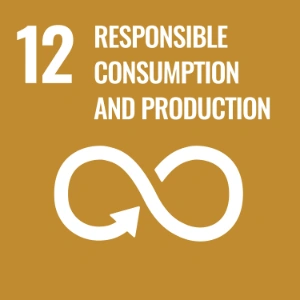 SDG 12
Ensuring sustainable consumption and production patterns.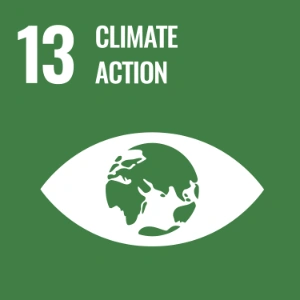 SDG 13
Taking urgent action to combat climate change and its impacts.
Sustainable Procurement for Hong Kong and the Chinese Mainland in 2022
Total value
of total procurement spend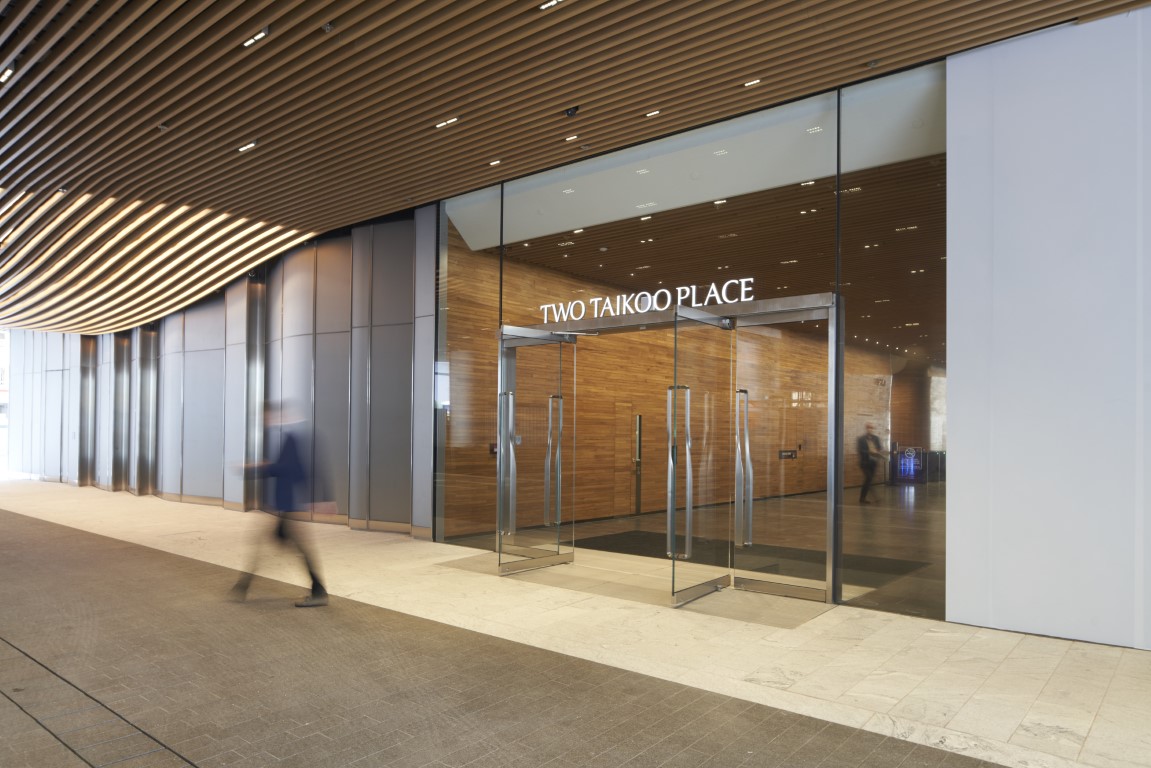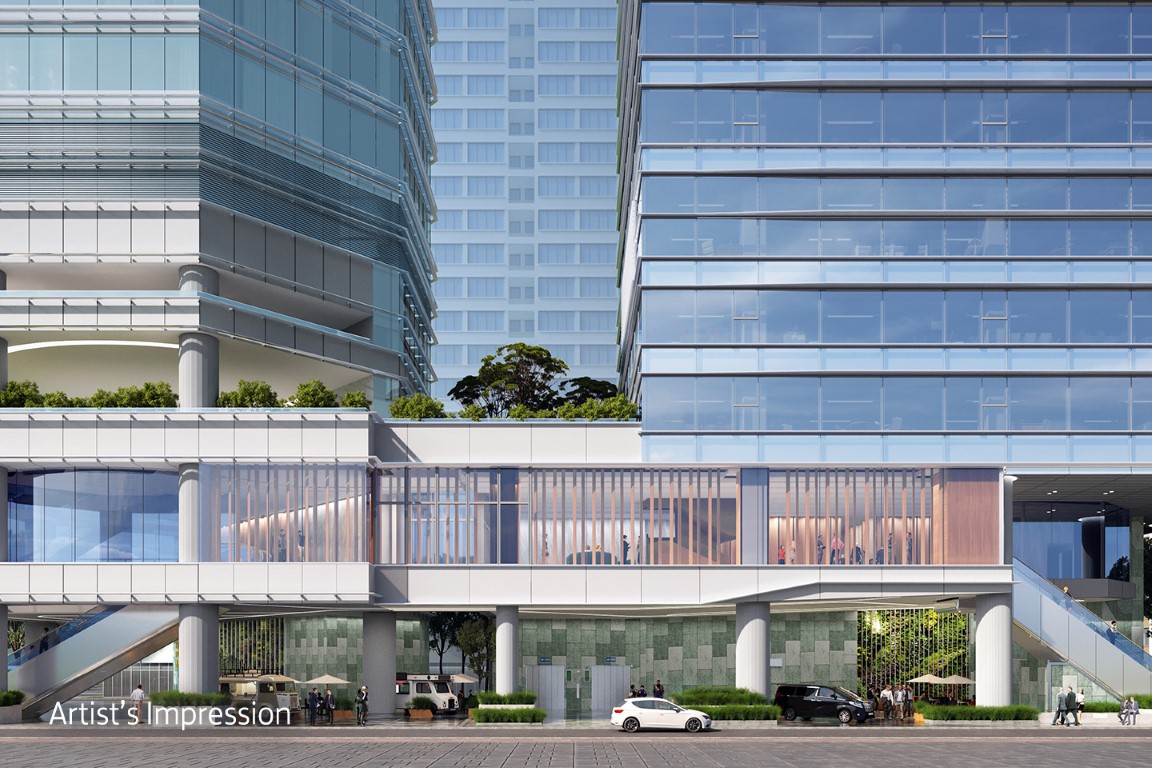 Green Procurement at Two Taikoo Place and Six Pacific Place
Two Taikoo Place and Six Pacific Place have established a "whole lifecycle carbon" management approach which addresses both embodied carbon and operational carbon. Part of this vision involved the use of green procurement during the construction stage of the project.
The green building materials procured include:
Nearly 100% of concrete used is Platinum-certified under the Construction Industry Council ("CIC") Green Product Certification.
Structural steel and rebar have high recycled content and are manufactured by the electric arc furnace ("EAF") process.
All gypsum blocks used are Platinum-certified under the CIC Green Product Certification.
Forest Stewardship Council ("FSC") or Programme for the Endorsement of Forest Certification ("PEFC") certified timber used in temporary works.
Platinum-grade chillers certified under CIC Green Product Certification.
Low-volatile organic compound ("VOC") and chlorofluorocarbon ("CFC")-free paints, coatings, adhesives, sealants, flooring, insulation and furniture were purchased during the interior fit-out stage.
FSC and PEFC certified timber adopted for both temporary and interior works.
As at 31 December 2022, procured more than 23,000 tonnes of concrete which are Platinum-certified under the CIC Green Product Certification.
Procured rebar which are Platinum-certified under the CIC Green Product Certification.
All fan coil unit procured with CIC Green Product Certification.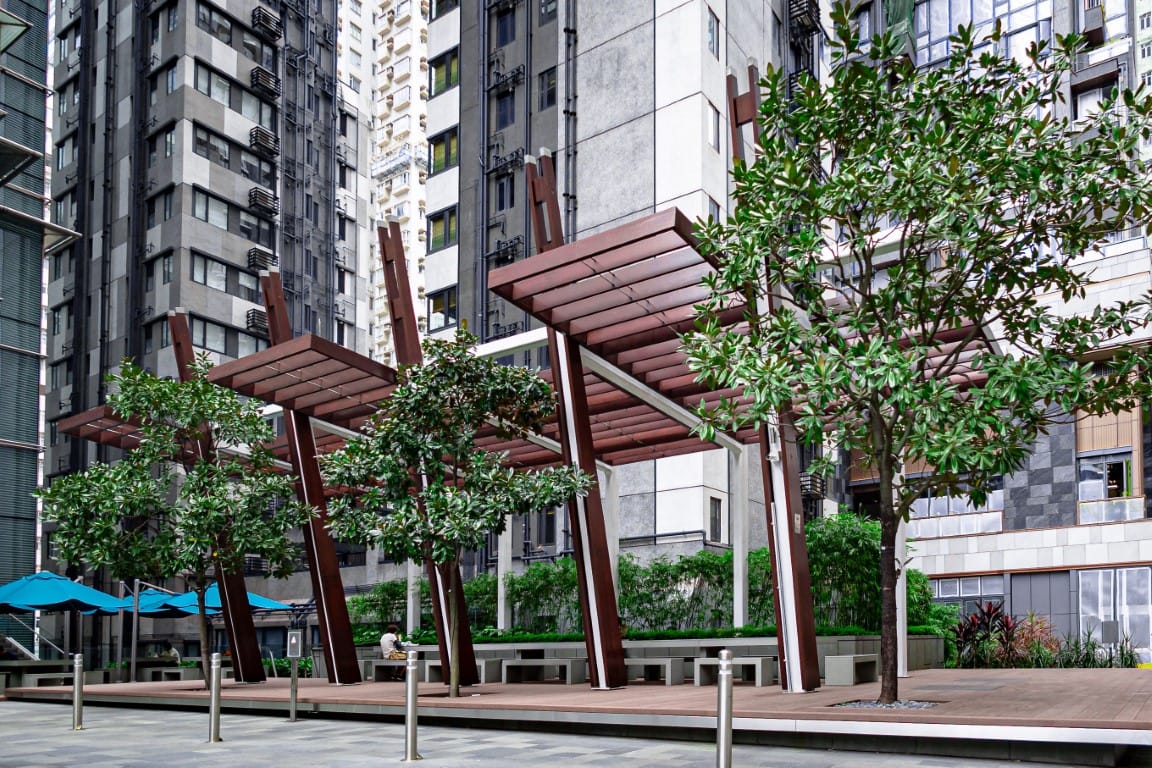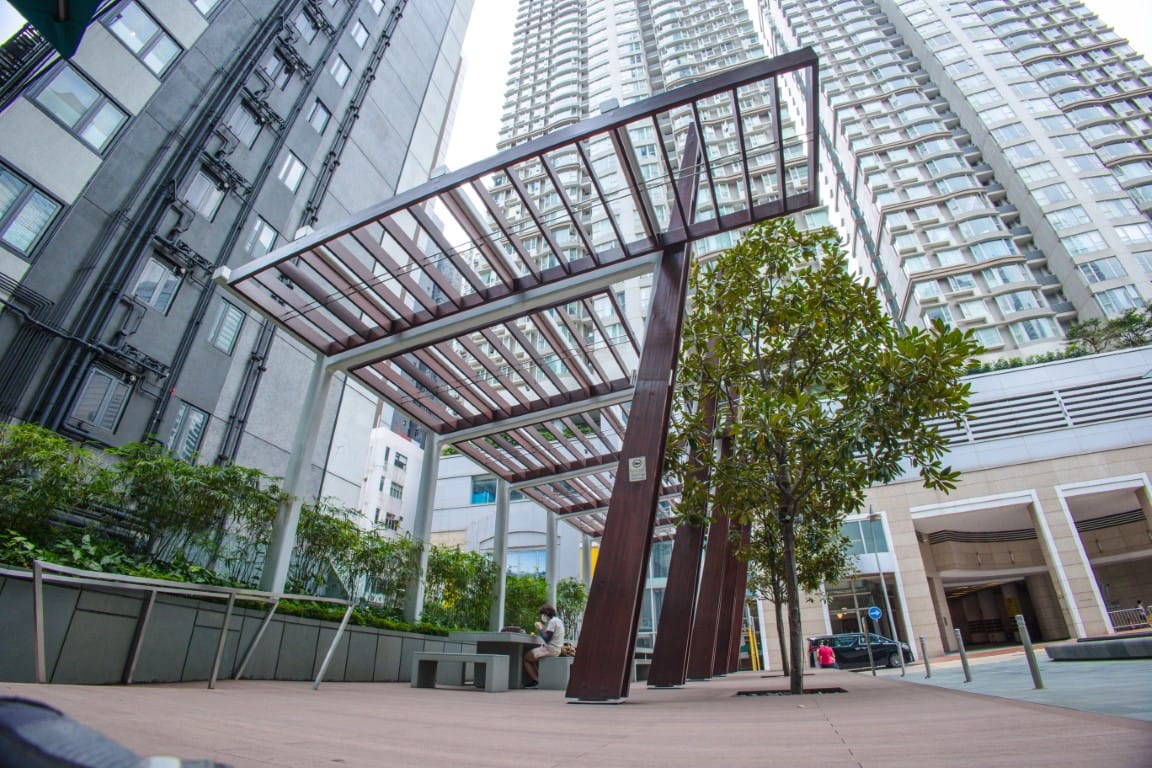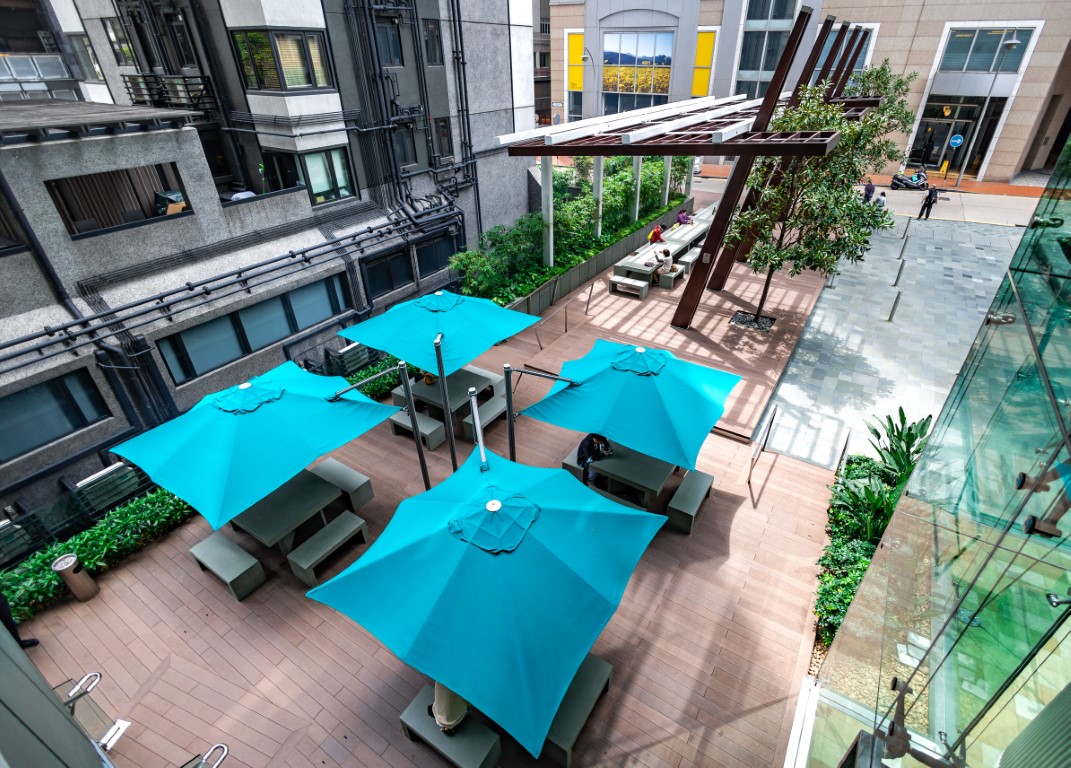 A Sustainable Timber Deck at Three Pacific Place
After being in use for 16 years, the wooden deck and stone benches in the Star Street Plaza and Queen's Road East Plaza in front of Three Pacific Place needed a revamp. Instead of demolishing them and building new ones using fresh materials, with the old materials sent to landfill, Swire Properties prioritised recycling as many existing elements as possible.
The deck's timbers were recycled and reconstituted into a more durable wood-plastic composite ("WPC") deck, with the entire process performed by a local vendor. Meanwhile, sandstone panels from the external façade of the Pacific Place Mall were replaced after over 10 years of service. These were transformed into reconstituted stone benches and tables with all suppliers being local companies.
The project is an excellent example of closed-loop recycling and is a ground-breaking project for WPC usage in Hong Kong, since all the recycling, reconstitution and fabrication processes took place locally. We seek to incorporate sustainability into every facet of our business and establish long-term cooperative relationships with green supply chain partners, together transitioning to a low-carbon economy.
For more details, please refer to the project mini-site
here
.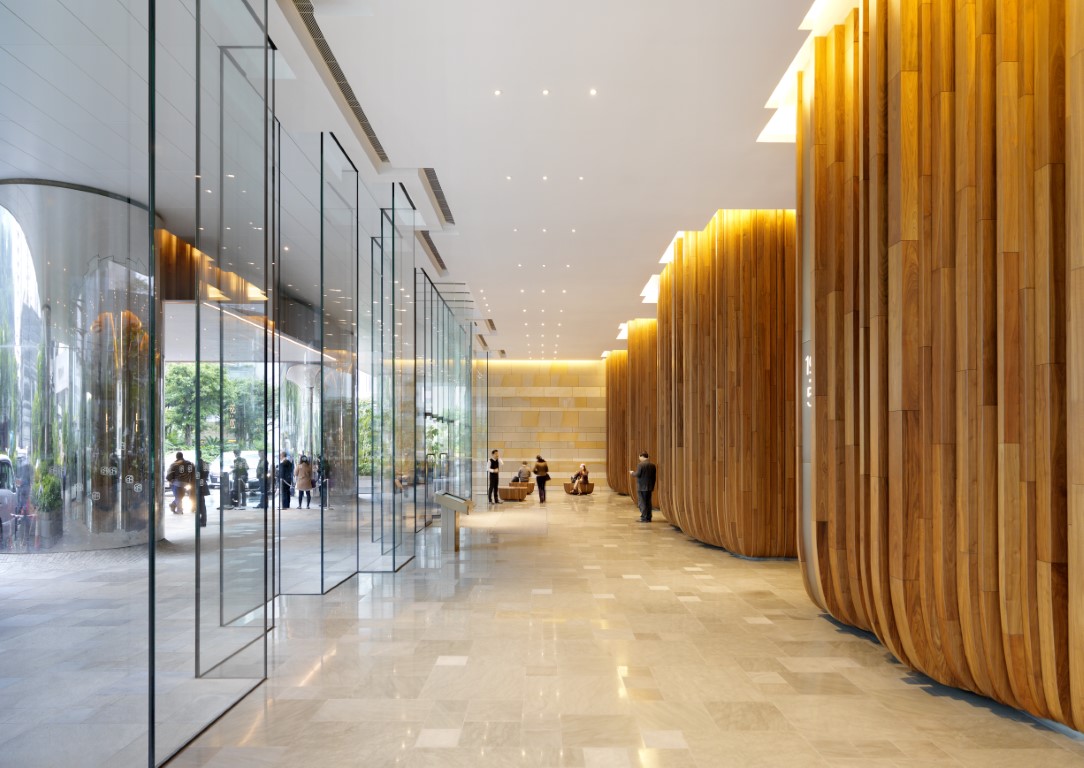 Further Expansion of our Sustainable Sourcing Programme
We are committed to expanding our sourcing of sustainable materials across all areas of our business. In 2022, we continued to make significant achievements in this regard, including:
Portfolio Management Offices and Facilities:
Air handling units, paints and coatings, panel board and water pump with CIC Green Product Certification.
Toilet paper and printing paper certified by the Forest Stewardship Council ("FSC").
Office printing paper with 100% recycled content in our Hong Kong internal offices.
Biodegradable tea bags with certified organic tea.
Sustainable seafood that meets guidelines set out by the WWF Seafood Guide or the Aquaculture Stewardship Council.
Plant-based meat alternatives on menus, helping to lower carbon emissions and reduce the ecological footprint of our operations.
Vegan, organic and biodynamic wines added to menus.
Coffee beans processed with solar power and packaged in biodegradable materials.
Bamboo material bathroom amenities.
Simplified packaging for room amenities such as removing paper boxes.
Toilet paper rolls replaced with 90-100% recycled fibre certified by FSC.
All office printing papers certified by FSC.