On-site Renewable Energy Generation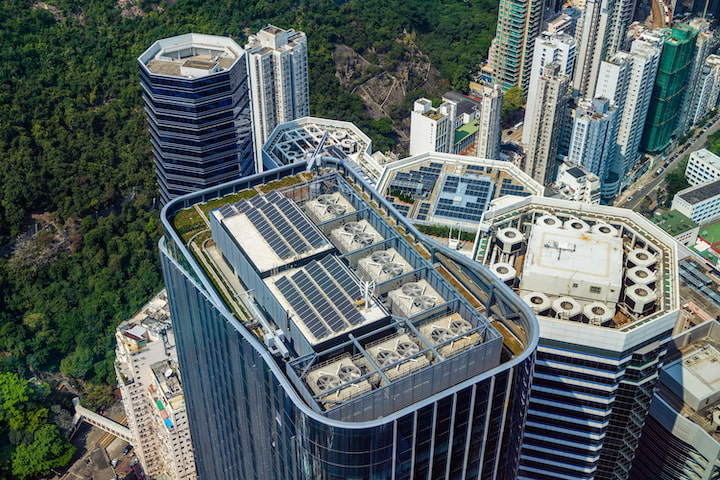 One of our 2025 KPIs is to generate 4-6% of the landlord's building energy from renewable or clean energy sources in selected new office developments. At Two Taikoo Place, we are installing solar PV panels, a wind turbine and a waste-to-energy tri-generation system, which we estimate will supply renewable energy equivalent to approximately 6% of the landlord's building energy.
We continue to explore other ways of increasing on-site renewable energy generation across our portfolio, such as installing solar PV panels on the roofs of existing developments like INDIGO, Taikoo Hui Guangzhou and Taikoo Li Sanlitun. We installed additional high-efficiency solar PV panels at INDIGO in 2019, while PV panels will be installed on Taikoo Place buildings in phases. A 30 kW PV panel system was installed at Devon House in 2022 which is expected to generate 31,000 kWh annually.
Off-site Renewable Electricity Procurement
We are committed to exploring new procurement options for off-site renewable electricity for our portfolio, where feasible. Since 2021, Taikoo Hui Guangzhou became powered by 100% renewable electricity, joining Sino-Ocean Taikoo Li Chengdu in achieving net-zero carbon in its annual electricity consumption for both landlord and tenant operations and setting a new standard for the real estate sector in Asia. In 2022, Taikoo Li Sanlitun became our third portfolio in the Chinese Mainland to enter into an off-site renewable electricity agreement, with 15% of the landlord's annual electricity consumption from clean energy sources.
On-site Renewable Energy Generated in 2022*
*Include solar PV panel and waste-to-energy trigeneration system.
Off-site Renewable Electricity Procurement