Our commitment to promoting diversity in the workplace is documented in our Corporate Code of Conduct and our Equal Opportunities Policy, both of which are communicated to our employees through our employee handbook. Additionally, the Swire Pacific Diversity and Inclusion Steering Committee formulates policies and provides guidelines to promote a diverse workforce and an inclusive working environment across the Swire Group.
In 2021, Swire Properties became a corporate member of CareER, an NGO that provides career development opportunities to persons with disabilities and special educational needs. We also began participating in the CareER Disability Inclusion Index, a comprehensive and localised assessment tool that evaluates a company's performance in terms of disability inclusion in its operations and services.
D&I Policy
Our D&I Policy reaffirms our commitment to creating an inclusive and supportive working environment for all our employees regardless of age, gender or gender reassignment, sex or sexual orientation, marital or family status, disability, race (including ethnic origin or nationality), and religious or political beliefs.
Our D&I Committee is chaired by our Director, Human Resources and reports to the Executive Committee ("EXCOM") on a quarterly basis. The D&I Committee's responsibilities include ensuring equal opportunities, advocating fair and bias-free processes for recruiting, developing and promoting our employees, and monitoring our success in achieving D&I in our workplaces. The D&I Committee also serves as a governing body to review grievances relating to discrimination.
As society evolves, we also evolve our D&I practices. This year, in recognition of our ever-more diverse workplace, we introduced new policies on respect in the workplace, staff grievances and parental leave. These new policies help foster an inclusive and supportive working environment for all our people by creating an environment where people feel comfortable and able to reach their full potential. In turn, this produces a workplace without harassment and bullying, with proper procedures to ensure that grievances and complaints are dealt with effectively, fairly and efficiently.
Respect in the Workplace Policy
Our new Respect in the Workplace Policy aims to ensure that all our people are treated, and treat others, with dignity and respect. It outlines Swire Properties' expectation that our people contribute to an environment of trust and respect and conduct themselves in a manner which is not offensive, or reasonably perceived by others to be offensive, that takes due account of the diversity of others' backgrounds, cultural values and beliefs. Behaviour which does not adhere to this policy will not be tolerated and will lead to disciplinary action being taken, up to and including dismissal.
Parental Leave Policy and Guidelines
Our new Parental Leave Policy and Guidelines demonstrates Swire Properties' commitment to supporting our employees when they start or grow their families, and the fact that we are also committed to removing bias in the workplace. We recognise that there are many different types of family units, and we challenge the view that childcare is solely a female responsibility. Ultimately, we want our people to pursue fulfilling and successful careers while raising children. Providing appropriate levels of parental leave is key to this aim. The policy recognises all parents regardless of their gender or sexual orientation, how they became parents (whether by natural birth, surrogacy or adoption), and the nature or existence of a family unit.
Percentage of Management Positions Held by Women
of management positions held by women
of EXCOM members are women
(as at 31st December 2021)
Gender Pay Ratio
(female to male)
Chief Executive Pay to Employee Pay Ratio
Calculated as the ratio between the total annual compensation of the Chief Executive and the mean employee compensation
Flexible Working Policy Initiative
Our Flexible Working Policy was launched in mid-2019. We introduced the Staggered Working Hours initiative to allow employees to arrive or leave the office at flexible times provided they are present during specified core working hours. Employees are able to balance their work with their personal commitments, helping advance our goal of building a more people-centric workplace culture. We believe that staggered working hours empower our employees to be more creative and productive.
To augment this policy, we also launched the Sabbatical Leave Policy in January 2020. Sabbaticals allow an employee an extended period away from work, during which time they may recharge themselves, adjust to any life transitions, dedicate time to family matters, or develop their skillsets in various areas. Although this is unpaid leave, employees on sabbatical still enjoy selected staff benefits such as annual leave, medical, training and the use of recreation facilities.
During the COVID-19 pandemic, we initiated several other working alternatives across our offices, including distributed work, work-from-home and telecommuting arrangements. These were designed to minimise large gatherings of people and avoid cross-infection situations.
Swire Properties U.S.A. Forms Diversity, Equity and Inclusion ("DEI") Taskforce
Joining the Swire Group Diversity and Inclusion Survey 2021
This year, Swire Properties took part in the Swire Group's annual D&I survey. The survey allows employees to contribute to the Group's commitment to create inclusive workplaces where everyone can thrive and succeed regardless of age, gender, gender identity, disability, ethnicity, sexual orientation and other characteristics.
The objectives of the survey were to understand the extent to which our people feel the Company has an inclusive work environment where ideas and voices are heard, supported and respected, and to collect demographic data to better understand our workforce and ensure our D&I strategies and initiatives are inclusive to all groups. This survey will help us shape and refine our D&I policy and strategies on an ongoing basis.
One third of employees from Swire Properties' Hong Kong portfolio and Hong Kong hotels responded to the survey. The preliminary results revealed that:
79% of the respondents agreed that the Company values and respects a variety of ideas, perspectives and working styles
76% of the respondents agreed that the Company has created an environment where people of diverse backgrounds can succeed
79% of respondents agreed that the Company's senior leadership publicly supports and promotes diversity initiatives
72% of respondents agreed that the Company's D&I-related policies and procedures are fairly enforced throughout the Company's operations
The survey's demographic data revealed a number of workforce diversity indicators:
Around 93% of respondents self-identified as Chinese,  followed by 1% of respondents self-identified as White, 1% as Mixed, 2% as Others and 3% of respondents preferred not to answer
7% of respondents self-identified as LGBT+
2% of respondents self-identified as having a disability
Board Diversity
GRI 2-9
Our
Board Diversity Policy
recognises the value of diversity in the composition of our Board and endorses the principle that our Board should cultivate a balance of skills and experience as well as a diversity of perspectives that are aligned with our business.
Board Diversity
(as at 31st December 2021)
By gender
Male
Female
2021
2020
2019
By age group
2021
23% 30 to 50 years old
77% Over 50 year old
30 to 50 years old
Over 50 year old
2021
2020
2019
By local/non-local
2021
54% Local
46% Non-local
Local
Non-local
2021
2020
2019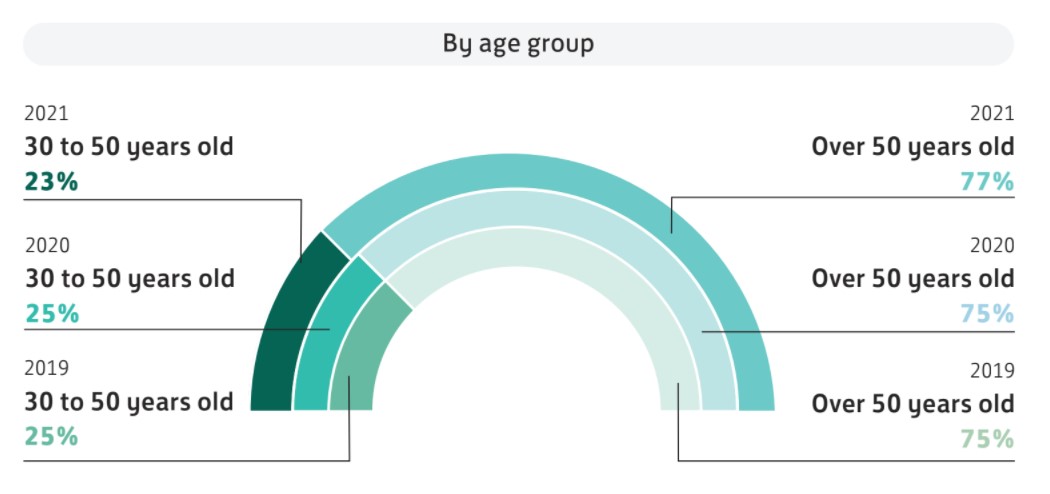 2021
2020
2019